Last week's passing of Supreme Court Justice Ruth Bader Ginsberg created a whole new dynamic to the Presidential Election. Within only a few days, it has become clear that the President's decision to move ahead with a nominee will dominate the public's attention for the foreseeable future, with issues such as COVID-19 taking a back seat.
Using Eyesover's Issue Impact measurement, we can see how voters have received the President's decision in real-time.

The President's decision has provided a net gain in support with three times more people moving from a neutral or negative sentiment to a positive sentiment than those who were neutral or positive previously, but view this decision as a negative.
The issue has also provided Biden a net gain, but with a ratio of just under two to one, the decision to move forward on the nomination process prior to the election appears to be a winner for the President.

The past three days' sentiment analysis supports the impact analysis with the President maintaining a neutral to slightly positive sentiment, while Biden has slipped into negative territory over the past 24 hours on the issue.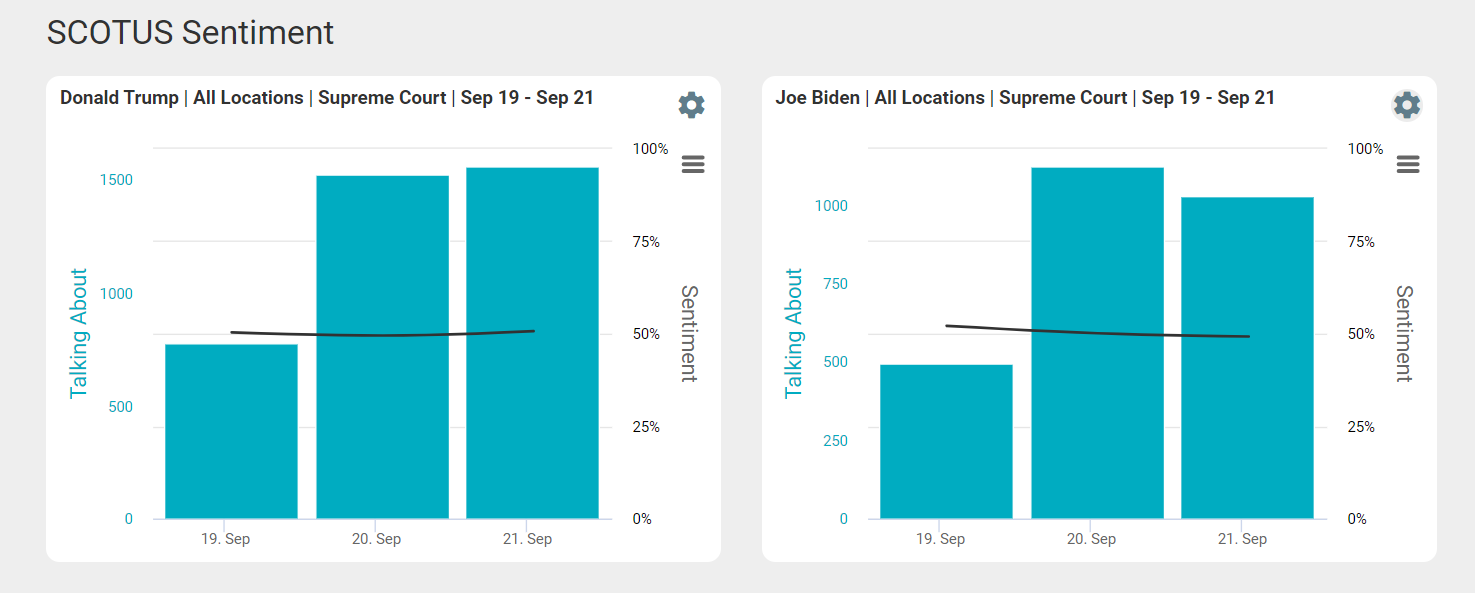 What does it all mean? It means that when you are getting support for your handling of the dominant issue of the day, your overall support tends to increase as well. And that increase is exactly what we are seeing for Trump on both a State and National level in today's support numbers.
Arizona: D+2 (-2)
Florida: D+2 (-2)
Michigan: D+8 (-2)
Minnesota: D+10 (-4)
North Carolina: D+8 (NC)
Pennsylvania: D+6 (NC)
Texas: Tie (D-2)
Wisconsin: D+8 (-2)
National: D+6 (-2)
Except for North Carolina and Pennsylvania, Biden's lead in all of our monitored states decreased since last week with our analysis indicating that it is due in large part to the President's decision to fill the SCOTUS vacancy before the election.
As a side note, we will be adding to the list of our monitored states by including Colorado (D+10), Maine (D+14), and Nevada (D+2).