We're three days into the campaign, and the first significant swing in public sentiment we have observed is a result of the Liberal's announcement on mandatory vaccines for public servants. Eyesover social media tracking of the election issues shows the Liberals are currently scoring the lowest of the three main parties on the public sentiment expressed towards the issue. The negative comments on the Liberals have focused on the party's inability to explain what happens to employees who refuse to get vaccinated.
Despite their position being received negatively when announced, the Conservatives currently have the highest sentiment as an increasing number of comments state that their position (not mandatory, testing for those unvaccinated) is the same as what the Liberal or NDP positions will end up being.
The Liberals have also not fared well on the Afghanistan issue, with an increasing number of comments concerned about the extraction of Canadians and those who worked with them who are still in the country. The comments indicate a perceived lack of preparedness and action by the Government.
Conversely, the Conservative platform has been relatively well-received with a positive sentiment score and an impressive boost to their support base as measured by Eyesover's Impact Report. Our system measures the percent change of support parties experience based on shifts in public opinion on specific issues. The following is the overall change to the CPC support based on online comments specific to their platform launch.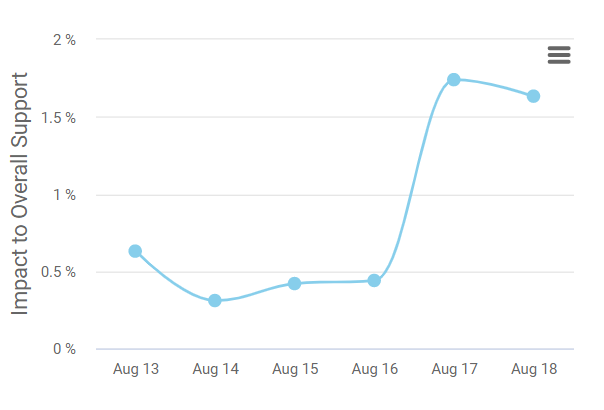 The increase in support due to the platform launch explains the increase in the overall support gains the Conservatives have made over the past 48 hours, as our overall numbers show they have cut the Liberal's lead to five points, down from seven on Sunday.
You can download Eyesover's Android app at the Google Play Store, or visit our web app to stay up-to-date on the campaign in real-time.