As the Ukraine and impeachment issues have played out over the last couple of days, the expected decrease in the sentiment expressed towards the President online is underway. As we have seen in the past, Trump tends to rebound quickly and without damage from these negative changes. But as these decrease and recovery movements add up, it is always interesting to see if a current issue will cause a sustained shift in the President's normal sentiment range online; something that has yet to occur in our monitoring over the past year.

As we monitor the President online, it is clear that the President's political base is firm. For example, if we look at the online data over the past summer, we see that while there were plenty of ups and downs in the sentiment measurements of Trump mentions, prior to the Ukraine news, he had yet again, worked his way back to his moderately negative range of -.05 to -0.1 (scale of -1 to +1).
The period that stands out on the graph is the online reaction to the double mass shootings on August 3. Trump's sentiment dropped to its lowest point in the past year, but it took only a week to return to his average range of -.05 to -.1.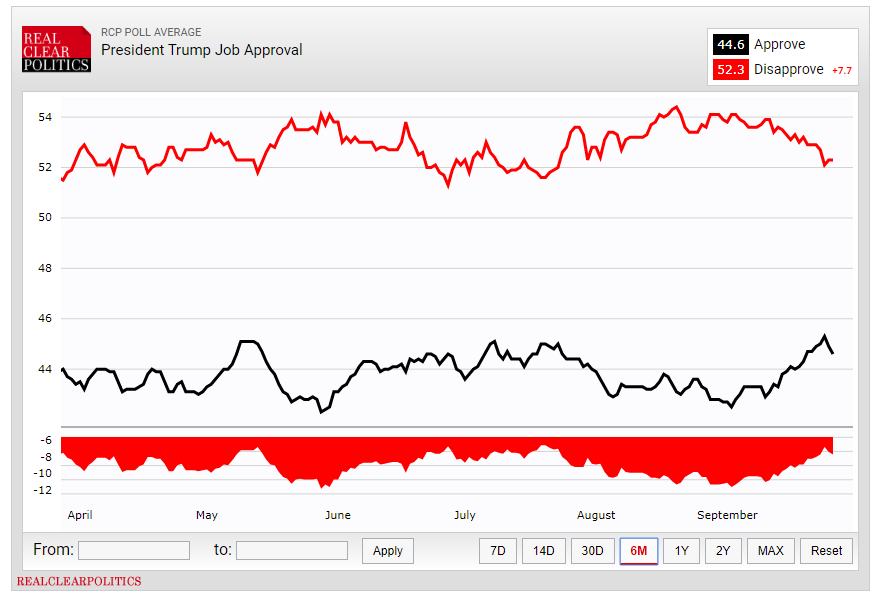 Consistently being in a negative range is not ideal for any politician, but it is worthy of note that the President's sentiment, as monitored by Eyesover, was in the same range throughout the 2016 Presidential Election.

These trends align with Trump's average approval rating numbers over the same period. Those numbers have been very consistent over time staying with a 42%-45% range over the past six months, according to RealClearPolitics.